William Purvis Albright
William Purvis Albright was the eighth student body president for NC State, and presided over one of the most turbulent terms in the history of the college. During his term the Golden Chain, the senior class honorary society, voted that the student government should be abolished due to it no longer functioning adequately on campus. The Golden Chain also noted that the honor system which the student government had used to keep students in line no longer functioned, and needed to be abolished in favor of direct faculty control.
Albright condemned the Golden Chain's move, and after much debate the question of whether or not to keep the student government and the honor system went out in a referendum to all the students on campus. The decision was made to keep the student government, but the referendum caused serious discussion on the need for student government at NC State.
Images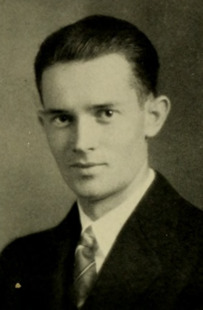 Years at State
Student Body President, 1928-1929
Accomplishments
Albright went through two major shakeups in his term, the first being the Golden Chain's recommendation to abolish Student Government entirely, as narrated above. However, late in his term many members of the student council directly opposed him and attempted to bring back the gauntlet (which his predecessor had abolished) as a system of punishment in replacement of the honor system. Albright furiously opposed the return of the gauntlet, saying he would have nothing to do with it. The gauntlet was closely associated with the freshmen caps, and many council members claimed that by reinstating the gauntlet the freshmen caps rule could thus be enforced, and hopefully "school spirit" could be maintained. The issue was debated fiercely but was eventually sent to committee for discussion. This never occurred; however, as the new Student Government was elected less than a month later.
Citations
Agromeck (1929), 37.
"Albright Takes Reigns of Office" Technician Vol. 8, No. 23 (May 26 1928), 1-2.
"The Court of Customs" Technician Vol. 9, No. 2 (September 29, 1928), 4.
"Will Continue Student Government At N.C. State" Technician Vol. 9, No. 7 (November 3 1928), 1-2.
A. Laurence Aydlett, "Students Undecided on System of Local Self-Government" Technician Vol. 9, No. 8 (November 10 1928), 1-2.
"Student Government" Technician Vol. 9, No. 8 (November 10 1928), 4.
A. L. Weaver, "Student Council Will Offer Referendum On Campus Rule Tuesday" Technician Vol. 9, No. 12 (December 8 1928), 1-2.
"A Challenge" Technician Vol. 9, No. 7 (November 3 1928), 4.
A. Laurance Aydlett, "Students Return As Flu Subsides" Technician Vol. 9, No. 13 (January 5, 1929), 1.
"To Fine Class-Cuts" Technician Vol. 9, No. 22 (March 9 1929), 1-2.
"Student Body Head Fights Return of Gauntlet As a Black Eye to Institution" Technician Vol. 9, No. 26 (April 6 1929), 1-2.