William McCook Bailey
NC State College senior William Bailey was active in many campus organizations including Alpha Zeta, the Publications Board, and the football and swimming teams; however, Bailey was best recognized for his service as Student Council president. During his presidential term, Bailey served on numerous campus committees, including the senior gift committee. Bailey also represented students' interests off campus; in December 1938, Bailey attended the annual convention of the National Student Federation of America at Purdue University. Well-liked by his peers, students voted Bailey the most popular member of the 1939 senior class. Bailey's professors also showed their affection for Bailey when they selected him for inclusion in the 1939 edition of "Who's Who Among Students in American Universities and Colleges."
William Bailey graduated from NC State in 1939 with a bachelor of science degree in forestry.
Images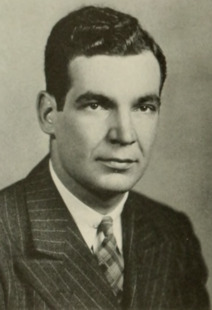 Years at State
Student Body President, 1938-1939
Accomplishments
October 1, 1938 marked the first annual Greater University Day. Held on NC State's campus, the day's events included the State-Carolina football game, a parade, and a dance. According to the Technician, the purpose of Greater University Day was "to promote greater friendship and spirit of unity and better sportsmanship" within the Greater University. Student Council President Bill Bailey assisted in the planning of Greater University Day. Bailey served as a member of the committee that selected marshals which led the players onto the field at the start of the football game.
On March 2, 1939, over 200 college and high school students across North Carolina met in Raleigh to discuss the issues surrounding proposed tuition increases. Students voted to ask the Legislature to provide "'adequate funds' for education and health and to levy additional taxes if necessary to secure the needed funds." President Bailey and led the student meeting along with Carolina's student body president.
Citations
Technician (11 November 1938, 18 November 1938, 2 December 1938, 21 April 1939)
1939 Agromeck