William Keith Thornton
World War II veteran William "Bill" Thornton was the 26th Student Government vice president, and served as Student Government president during the 1946 summer session. During his tenure, the Technician described Thornton as an "advocate for improvements in student living conditions." In addition to his work with the Student Government, he served as president of the Vets' Club, and was active in several campus organizations. The following spring, Thornton lost his bid for Student Government presidency to Jennings Teal.
Images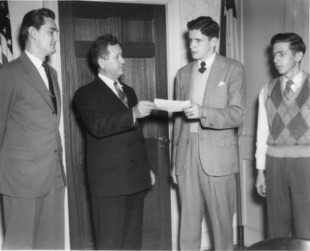 Years at State
Student Government Vice President, 1946-1947
Accomplishments
During his term, Thornton was chair of the Dad's Day program and organized several pep rallies. He served as Student Council representative at three major student conventions: the Southern Student Council, the Southern Student Government President's Conference, and the National Student Organization Conference.
Thornton and his summer council also sponsored a dance known as the "Summer Hop." The dance was widely considered a success. In addition, the council succeeded in leading the campus cafeteria to open its doors fifteen minutes earlier to alleviate morning congestion.
Citations
Technician (4 October 1946)