Thomas H. Stafford, Jr.
Dr. Thomas Stafford, a Henderson, North Carolina native, has served as a mentor to NC State student leaders for more than forty years. After twelve years of service in various positions, including associate dean of Student Affairs, Chancellor Bruce Poulton appointed Dr. Stafford as vice chancellor for Student Affairs. As Vice Chancellor, Dr. Stafford served alongside twenty-seven student body presidents and six NC State chancellors.
Dr. Stafford received a bachelor's degree in psychology from Davidson College, a master's degree in counseling from NC State, and a Ph.D. from Florida State in higher education administration in 1964, 1966 and 1971, respectively; he also holds membership in Phi Kappa Phi national honor society. Following graduation from NC State, Dr. Stafford joined the Army, during which time he spent thirteen months in South Korea.
Dr. Stafford is also active in local community organizations; he previously held a position on the Board of Directors for the Triangle Chapter of the American Red Cross and he maintains membership in the NC Fossil Club. More recently, Dr. Stafford is known for hosting tours of the NC State Memorial Tower.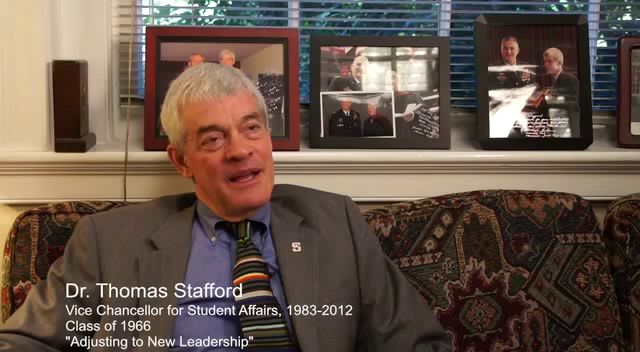 Images
Currently
Dr. Stafford retired from his position as vice chancellor on July 1, 2012. He plans to remain involved at NC State in some capacity.
Citations
Technician (1 March 2011)
NCSU Bulletin, Stafford to Retire in 2012, accessed 9 July 2012.
NCSU Features, Students First, accessed 9 July 2012.
Dr. Thomas Stafford, Student Leaders Oral Histories, MC 00401, Special Collections Research Center, North Carolina State University Libraries, Raleigh, NC.