Rusty Mau
Rusty Mau served as president of NC State's Student Government from 2014 to 2015 while a graduate student. He and his vice president, Devan Riley, won with 53% of the votes in the first year to feature a ballot with the vice president listed. Mau and Riley campaigned on a platform emphasizing inclusion, diversity, and promotion of student interests to administration. Mau graduated with a master's degree in economics in 2015.
Images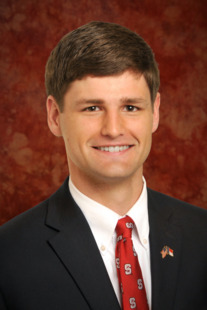 Years at State
Student Body President, 2014-2015
Accomplishments
During the 2014-2015 school year, ninety-four pieces of legislation were considered by Student Government, including the Indigenous People's Day Act (replacing Columbus Day), the Inclusion Act, and the Social Justice Mini-Grant.
While president Mau successfully advocated for an inflation-based cap on tuition and fee increases. He also appeared on CNN's State of the Union to discuss race relations in America and efforts to eliminate discrimination, and he published a piece in the Raleigh News & Observer about University of North Carolina constitutional mandates and tuition policies.
Currently
After graduation Mau began a career with Bank of America.
Citations
Technician (27 March 2014, 26 March 2016, 26 March 2016)
"Rusty Mau." LinkedIn. Accessed April 7, 2017.