Rochelle Johnson
Rochelle Johnson was the fourth Vice President at North Carolina State University. He was known as an excellent athlete, and won the Norris Trophy for best all-around athlete in 1924. Johnson was declared permanently ineligible from playing baseball for NC State in the spring of 1925, because he played in several games for a professional baseball team in South Carolina. In addition to being the vice president, Johnson also acted as organizer for many student government events, including the swearing in of his successor.
Images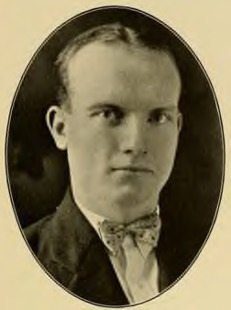 Years at State
Student Government Vice President, 1924-1925
Accomplishments
The student government waged a strong campaign against hazing in 1924, and the Technician reported that "We are hoping to go through this year without a single haircut among the freshmen." The Technician further noted that it was apparently necessary to remind the sophomores that the freshmen were in fact humans, and should be treated as such.
During Johnson's term the student government also began enforcing the regulation that playing a phonograph after 7:00 PM was strictly forbidden, as it interfered with the studying of other students. The Student Government assured students that any infractions would be dealt with immediately.
Citations
"'Red' Johnson and 'Dutch' Holland Are Ineligible for Baseball" Technician Vol. 5, No. 26 (March 27 1925), 1.
"Student Government Officers are Installed" Technician Vol. V, No. 25 (April 10 1925), 1
"Sophomores Make Good Job Painting" Technician Vol. V, No. 2 (September 26 1924), 7.
"Wake Forest 'Shall Not Paint'" Technician Vol. V, No. 7 (October 17 1924), 8.
"Student Government Is Reducing Hazing" Technician Vol. V, No. 2 (September 26 1924), 1.
L. R. Humbert, "Parade Saturday Night" Technician Vol. V, No. 3 (October 3 1924), 8.