Robert Chad Myers
Chad Myers campaigned for the presidency on a platform that called for improved student services, more public safety officers, and the creation of a website where students could post complaints and suggestions for Student Government. During his presidency, Myers actively opposed tuition increases, unsuccessfully supported major changes to AllCampus Cards that included an addition of an ATM strip, and negotiated with University Dining to allow book bags within the dining room. Myers also opposed the Student Senate's attempt to require the student body president to have previous Student Government experience. Myers stated, "I think we're limiting our choices [for SBP];" Myers believed the bill would restrict presidential candidates to members of the Student Senate.
During Myers' term, Chancellor Monteith announced his retirement, effective following the selection of his replacement. The Trustees selected Dr. Marye Anne Fox to fulfill the chancellor's position in April 1998. In other campus events, a crowd of 500 students and faculty members rallied in Witherspoon Student Center in support of affirmative action. Students opposed Molly Broad's, UNC-system president, proposal to eliminate race-based programs within the UNC-system.
Myers held many student leadership positions in addition to his service as student body president; he served as president of Sigma Phi Epsilon and was a member of the Student Center Board of Directors. Myers graduated from NC Sate in 1998 with a Bachelor of Science degree in biological engineering. In 2004, Myers graduated from INSEAD with a Master of Business Administration.
Images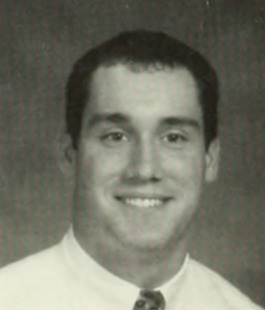 Years at State
Student Body President, 1997-1998
Accomplishments
During summer 1997, Myers lobbied against the NC General Assembly's proposed tuition increase. Myers also encouraged students to contact their legislators to express their frustration with continued tuition increases. Myers stated, "We [Student Government] did all the lobbying they [the legislature] could tolerate. It is out of the student leaders' hands."
Myers served on the Commission on Quality Student Services. Myers lobbied for a similar program during his presidential campaign. The Commission created a website where students could post questions and comments concerning the University. Myers hoped the program would lead to higher retention and graduation rates.
In January 1998, Myers met with the Raleigh Police Chief to discuss vagrants on Hillsborough Street. Myers said students "really expressed a sincere interest" in learning how to react when approached by vagrants. In response to the meeting, the Raleigh Police attorney created a student packet, which included information on city ordinances and volunteer organizations to aid the homeless.
Currently
Chad Myers is the co-founder and C.E.O. of Mind InFormation, "a Web-based tool that makes professionally directed, research-based reading & language therapy (dyslexia treatment) available to children..."
Citations
Technician (7 April 1997, 22 September 1997, 5 December 1997, 16 February 1998)
Lexercise, "Who we are," accessed 2 May 2012.
Chad Myers, LinkedIn, accessed 2 May 2012.