Molly Basdeo
In spring 2014, Basdeo was voted senior class president on a platform of "unity, service, and tradition." During her years at NC State she had been an active member of Student Government in both the legislative and executive branch; the Center for Student Leadership Ethics and Public Service; charter class member of Kappa Alpha Theta; New Student Programs; and the North Carolina Teaching Fellows.
As senior class president Basdeo worked to provide seniors with the opportunity to leave their mark at NC State through social/networking events, service opportunities, and participation in NC State traditions. Basdeo also worked closely with the Hillsborough Street Community Service Corporation to create a student committee to engage students' opinions and input of the street with merchants and business owners in an effort to revitalize the student experience with Hillsborough St.
Images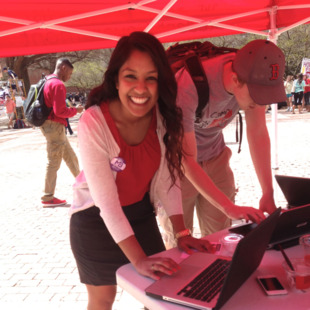 Years at State
Senior Class President, 2014-2015
Currently
Through her involvement with student groups at NC State, Basdeo realized a passion with student affairs and will be pursuing a career in the field of higher education upon graduation in May 2015.