Lloyd N. Brown
Charlotte, NC, native Lloyd N. Brown was the sixteenth NC State student body president. Prior to serving as president, Brown held leadership positions as the secretary and treasurer of his sophomore class. Brown also maintained membership in several student organizations including the Golden Chain and Sigma Tau Sigma.
Lloyd Brown graduated from State College in 1937 with a degree in textile chemistry.
Images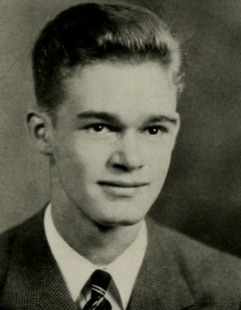 Years at State
Student Body President, 1936-1937
Accomplishments
During his tenure, Brown went to the Southern Federation of College Students conference in New Orleans. Former Student Body President William Aycock, then a graduate student at the University of North Carolina, was also in attendance.
Brown, Charles Matthews, vice president of Student Council, and the Technician editor interviewed R.J. Reynolds in December 1936. Reynolds contributed a significant donation to the Student Loan Fund. Students questioned whether Reynolds maintained an appropriate relationship with the athletic department.
Citations
Technician (10 April 1936, 24 April 1936)
1937 Agromeck