Lloyd McForrest Cheek
Lloyd "Doc" Cheek served as the thirty-fourth president of NC State College's Campus Government. While campaigning for the presidency, Cheek outlined his qualifications stating, "I have experience in many of the clubs, groups, and activities on our campus which, I feel, will enable me to represent the student body in the capacity of president...I have, also, always been open for constructive arguments for and against any programs with which I have been connected, and I promise to retain this trait during the coming year." Cheek's campaign platform focused on reviving the Wataugan magazine, planning permanent married student housing, and devising a "newer and better" system for class "cuts." During his presidency, Cheek maintained his support for married student housing and fought for improved traffic conditions. Cheek graduated from NC State College in 1955 with a Bachelor of Science degree in textiles.
Images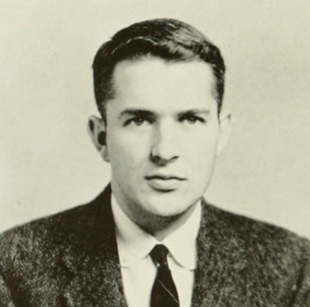 Years at State
Student Body President, 1954-1955
Accomplishments
While serving as president, Cheek attended the Fourth Annual Student Body Presidents Conference sponsored by the U.S. National Student Association in September 1954.
Cheek fought to relieve campus traffic. He encouraged "The whole student body to work together and cooperate to ease the [traffic] situation. Learn the laws and obey them."
Lloyd Cheek spoke on behalf of new fraternity housing at State College. Cheek called for a modern housing center designed for group living. In his "State of the Campus" address, Cheek also emphasized the need for more dorms. He called for a permanent housing opened to all married students to replace Vetville.
Cheek met with UNC's student body president to discuss problems common to both campuses, including traffic conditions and Student Supply Store prices. The two presidents brainstormed solutions to these problems.
Citations
Technician (9 April 1954, 30 April 1954)