Lawrence F. Holding
Raleigh, NC, native Lawrence F. Holding served as the twenty-second NC State Student Government vice president. He was elected in the fall of 1942, after vice president-elect Robert Boyce was promoted to president. Holding was active in several organizations on campus, and played for the college's baseball team.
Images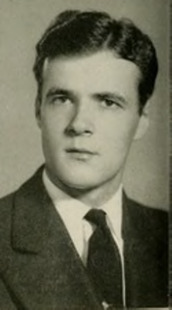 Years at State
Student Government Vice President, 1942-1943
Accomplishments
During Holding's tenure as vice president, the Student Council announced the formation of the Inter-Dormitory Council. The IDC sponsored dorm decorations, approved social activities, and enforced dorm rules.
In October 1942, the Student Council and the Technician sponsored a scrap metal drive. In two hours and 45 minutes, students collected an estimated 150,000 pounds of metal for the war effort.