Larry King Monteith
Larry King Monteith, a Bryson City, North Carolina native, was an electrical engineering student at NC State from 1956 to 1960. During that time, Monteith was active in the campus engineering community–holding membership on the Engineers' Council and serving as the president of Eta Kappa Nu engineering honor society during his senior year. He was also a member of the Joint Student Branch of the American Institute of Electrical Engineers and treasurer of the Institute of Radio Engineers. Following graduation from NC State in 1960, Monteith attended Duke University where he received a Master of Science and a PhD in electrical engineering in 1962 and 1965, respectively.
In 1968, Monteith began his twenty-nine year career at NC State as an associate professor of electrical engineering. Six years later, Monteith assumed the position as head of the Department of Engineering, a position he held until 1978 when he was again promoted to dean of the College of Engineering. From 1978 until 1989, Monteith served as the dean of the college until the Board of Trustees appointed him interim chancellor of the university following Chancellor Poulton's resignation. In 1990, the University of North Carolina Board of Governors selected Monteith to serve as the university's permanent chancellor, a position which he held until 1998.
Images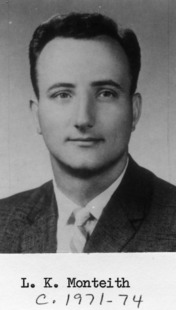 Years at State
Eta Kappa Nu, President
Institute of Radio Engineers, Treasurer
Accomplishments
As a sophomore, Monteith was honored with the Institute of Radio Engineers Junior Award.
On March 12, 1960, NC State engineering faculty selected Larry Monteith the "Outstanding Senior in Engineering" for the academic year. Monteith received his award at the St. Patrick's Dance in Reynolds Coliseum. The Technician declared that Monteith received the award for "the outstanding work he has been doing as a scholar, laboratory instructor, and engineering school leader."
Currently
As NC State's thirteenth chancellor, Larry Monteith sought to secure a chapter of Phi Beta Kappa on campus. In 1994, Monteith's efforts paid off; NC State was awarded a chapter of the elite honor society, signifying the university, long well known for its strong engineering and science programs, maintained equally impressive liberal arts and social science programs. Under Monteith's leadership, the university also developed the First Year College for freshmen, the College of Management, the Park Scholars program, and 16 of NC State's 20 residence halls were wired with Internet connections. Monteith also oversaw the development of Centennial Campus, which contained eight buildings by the time he retired in 1998.
Chancellor Monteith is the recipient of many awards including the 1999 College of Engineering Alumnus of the Year award and the Distinguished Engineering Alumni Award. Additionally, the Larry K. Monteith Engineering Research Center on Centennial Campus was named in the former chancellor's honor. Former president of the University of North Carolina William Friday spoke of the chancellor stating, "Larry K. Monteith not only was a leader at NC State, but he was a leader for all of North Carolina. He was a visionary who helped bring Centennial Campus to life, and he was part of a group that helped give shape to the concept of the Research Triangle. But maybe the best thing you can say about Larry is that he was devoted to the students of NC State and took a genuine interest in their success."
Larry Monteith and his wife, Nancy, currently reside in Morrisville, North Carolina.
Citations
Technician (16 November 1959, 14 January 1960, 24 March 1960, 19 May 1960)
1960 Agromeck
NCSU Press Release (September 16, 1997), accessed 24 February 2012.
NCSU College of Engineering, "Distinguished Engineering Alumnus Award Recipient: Larry K. Monteith — 1999," accessed 24 February 2012.
NCSU Facilities, "Larry K. Monteith Engineering Research Center," accessed 24 February 2012.
"A Protest by North Carolina State College Students of the Action Against Students by the Raleigh Police Department on the night of May 18, 1960," (May 19, 1960), folder 2, box 3, North Carolina State University, Student and Other Organizations, Student Government Records, UA 021.502, Special Collections Research Center, North Carolina State University Libraries, Raleigh, NC.