Koyt Samuel Nissen
Koyt Nissen was the first Vice-President for the Student Council at North Carolina State University, a position which would later become the Student Senate President. He was regarded as a great orator, and the Agromeck yearbook editors noted that he could have been a very successful lawyer, had he wished to be.
Images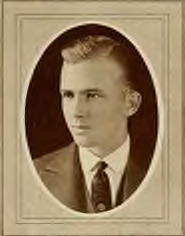 Years at State
Student Government Vice President, 1921-1922
Accomplishments
In late 1921, the Court of Customs was established by the student government. It enforced the Code of Conduct on the student body. Nissen himself published the codes in the Technician, and was probably heavily involved with creating both the code and the court. The codes included a special section for freshmen laws, which included "Freshmen shall have matches on their persons at all times for the benefit of upper classmen."
Citations
Agromeck (Raleigh: North Carolina State University, 1922).
"The Agriculture Fair Is a Huge Success" Technician Vol. 2, No. 4 (December 1 1921), 1, 4.
"A Code of Customs is Established by the S. G." Technician Vol. 2, No. 3 (November 15 1921), 1-2.