Kelly M. Hook
In spring 2010, NC State students voted Kelly Hook their ninety-second student body president. Hook, the sixth woman to hold the position, won the election by more than one-thousand votes. Prior to her election to the presidency, Hook served two years in the Student Senate and one year as the chief of staff in Jim Ceresnak's presidential cabinet.
Hook campaigned for the presidency with a platform that focused on simplifying students' lives through the reorganization of Wolf Line maps and reducing the "unnecessary burdens" of online courses. Hook declared she would "hold our administration accountable and make sure the needs of students are the top priority." In addition to maintaining elected positions within Student Government, Hook was involved in "Howl for Haiti," a program designed to raise money for victims of the 2010 Haiti earthquake.
Kelly Hook graduated from NC State in 2011 with a Bachelor of Arts in political science.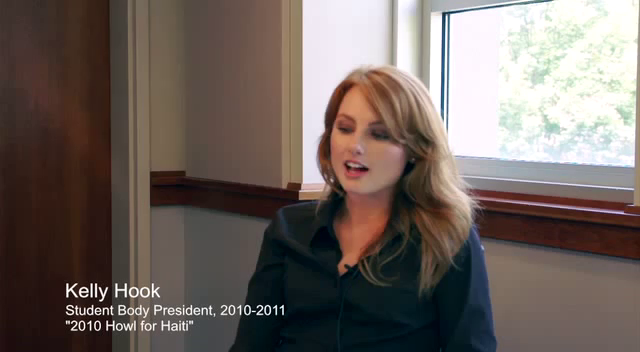 Images
Years at State
Student Body President, 2010-2011
Accomplishments
Kelly Hook served on the thirteen member NC State Athletics Director Search Committee, headed by former NC State Board of Trustee member Smedes York. In June 2010 the university announced Debbie Yow as the new director.
Hook traveled to Russia along with fifteen other U.S. student government leaders over spring break to "gain a better understanding of Russia's development path and an insight into the decision-making logic of Russian leaders." She described her experiences abroad in her university blog, Off the Hook, which she maintained throughout the year, documenting her experiences working in Student Government.
During her presidency, Hook implemented several programs including the "Distinguished Professor Lecture Series," which honored three "student favorite" professors and invited them to speak on campus and "The College Cup" event, a fun athletic competition between NC State colleges. Hook also traveled to Washington, D.C. to discuss the importance of Pell Grants with North Carolina legislators.
Currently
After graduating from NC State, Kelly Hook worked as the marketing coordinator at the Carolina Ballet. In 2013 her career has taken her to San Francisco.
Citations
Technician (22 March 2010, 30 March 2010, 5 April 2010, 7 April 2010, 2 June 2010, 1 February 2011)
"Kelly Hook," Student Government profile, accessed 22 September 2011.
"Howlin' for Hunger Food Drive to be Held Saturday," Go Pack: The Official Home of Wolfpack Athletics, 24 February 2011, accessed 16 April 2012.
"2010-2011 Board of Trustees," North Carolina State University, n.d., accessed 16 April 2012.
"Committee Selected for Athletics Director Search," NCSU Bulletin, 12 May 2010.
"To Russia with Love," Off the Hook (blog), 21 March 2011, accessed 16 April 2012.
"Top Professors," Off the Hook (blog), 1 March 2011, accessed 16 April 2012.
"Student Government Year in Review: 2010-2011," accessed 22 September 2011.
"Hillsborough Street Renovations Begin," Red and White for Life (blog), May 28, 2009, accessed 16 April 2012.
"Atrium Renovation Project," NCSU Dining, n.d., accessed 17 April 2012.