Joseph Gerard White
Joseph White became the Vice-President for the Student Body at North Carolina State University by being nominated for the office after W. P. Kanto, the elected Vice President, declined the position on the grounds that the number of offices he held violated campus policy. Strangely, the Technician does not mention White's nomination, but the Agromeck lists him as Vice President.
Images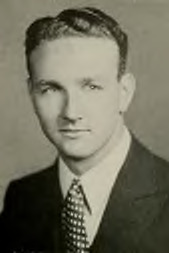 Years at State
Student Government Vice President, 1933-1934
Accomplishments
Budget concerns in 1933 forced the Student Government to drop their membership in the National Student Federation of America, as the membership cost $200 per year. In previous years student delegates had attended conferences in New Orleans, Toledo, and Atlanta.
The Student Council in spring of 1934 brought charges against the Student Supply Store, claiming that their "monopolistic" tendencies were harming the student community. They pointed out that students were only earning $4.05 per week for 28 hours of work, and asked that it be raised to $16 per week.
Citations
Agromeck (1934), 123.
"No Vice-President" Technician Vol. XIII, No. 28 (May 12 1933), 1.
"Student Council Drops Federation Membership" Technician Vol. XIV, No. 4 (October 13 1933), 1.
"Council Brings Charges Against Supply Store" Technician Vol. XIX, No. 15 (February 2 1934), 1.
"Rags Only" Technician Vol. XIII, No. 17 (February 1933), 1.
"Nudists" Technician Vol. XIII, No. 27 (May 5 1933), 1.