John Leslie Atkins, III
John Atkins described his term as president as "one of advancement." Atkins supported bills that altered campus parking and created committees that better represented campus needs. Atkins was involved in numerous campus organizations in addition to Student Government, including Kappa Alpha and the Blue Key. He was also a member of the first recognized Student Government political party, the University Party. In 1963 Student Government awarded Atkins the "Best Speaker" trophy. Atkins experienced the benefits of being student body president when President Lyndon B. Johnson invited him and two hundred other college representatives to dine at the White House in October 1964. Atkins was served Texas style barbecue while the President announced a new White House Fellows Program. The new program provided students with backgrounds in law, journalism, or architecture with experience working in government. Atkins graduated from State in 1965 with a bachelor's degree in architecture.
During Atkins' presidency, NC State faced a serious threat on campus. An arsonist set a series of eight campus fires. The largest fire destroyed Pullen Hall, one of the oldest campus buildings. Administrators asked students to aid in the capture of the arsonist by reporting suspicious activity and campus fires to authorities immediately.
1965 also saw NC State students win a major victory. Students continued to protest NC State's name change (to North Carolina State of the University of North Carolina at Raleigh). The NC General Assembly responded to student pleas on April 8, 1965 by altering NC State's name to the present title, North Carolina State University at Raleigh.
Images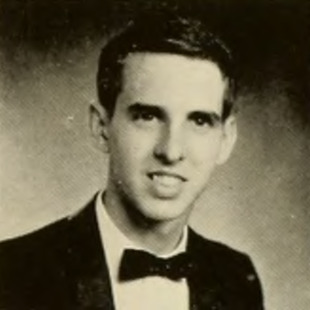 Years at State
Student Body President, 1964-1965
Accomplishments
As soon as Atkins assumed his position as student body president, he began making changes in Student Government. He eliminated the Campus Beautification Committee and the Trailer Park Committee, calling them ineffective, and created study committees that investigated curriculum, athletics, and campus honor.
After the Agromeck was renamed Phase 65, Atkins and Student Government objected to the change, citing a lack of student input in the decision-making process. In response to opposition, the Agromeck kept its name for the 1964-1965 yearbook. Additionally, Atkins supported the Homecoming Queen Bill, which allowed student involvement in the selection of the Queen. Prior to the bill, the members of the Blue Key honor fraternity selected the Queen.
In keeping with his platform promise, Atkins investigated the possibility of altering the semester schedule to end fall classes before Christmas break. However, Atkins would not see the schedule change while he was a student; it was not altered until fall 1966.
Currently
John Atkins III, is the chairman and CEO of O'Brien/Atkins Associates PA, a design firm located in Research Triangle Park. O'Brien/Atkins has won over 60 design awards including the American Institute of Architects-North Carolina Firm of the Year award.
Citations
Technician (9 March 1964, 14 May 1964, 6 September 1964, 30 September 1964, 2 October 1964, 7 October 1964, 9 October 1964, 23 October 1964, 10 February 1965, 5 April 1965, 9 April 1965)
Agromeck (Volume 63)
O'Brien/Atkins Associates PA. Accessed 13 August 2010.