John F. Matheson
An article in the 1927 Agromeck described John Matheson as a friendly and personable man with the highest academic credentials on campus. Matheson's high academic achievements earned him a scholarship during his freshman and sophomore years. In the spring of 1926, the student body elected Matheson the college's sixth Student Council president. Along with his presidential predecessor, he worked with both the Pan-Hellenic Council and the White Spades.
Following his election to the presidency, Matheson published a letter to the incoming freshman class in the Technician. The letter urged students to uphold the high standards of the college and welcomed them to campus. His letter and portrait appeared on the front page alongside similar letters and portraits from the Governor of North Carolina, the President of North Carolina State College, and the Y.M.C.A President, an organization which had a very strong presence on campus at this time.
Images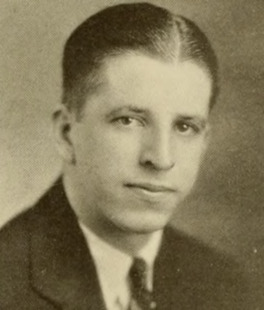 Years at State
Student Body President, 1926-1927
Accomplishments
According to the Technician, the Student Government under Matheson was running at "100 per cent". The editor noted "That is probably the cause of its unpopularity with a certain faction of students." The records of the Student Council show that Matheson and his fellow Student Government leaders worked hard to reduce hazing and crack down on academic dishonesty. The council also sought to reduce the noise level on campus in the evening.
Matheson called a special meeting of the Student Council for the express purpose of discussing how to reduce academic dishonesty, and appealed to students to report any known violations of the honor code. According to the Technician, academic dishonesty had become a severe problem on campus, noting that "At almost every final examination one or more of these students have been brought up before the Council, and several have been required to leave the College in disgrace."
Citations
1927 Agromeck, p117.
Editorial, Technician Vol. 7, No. 7 (October 30 1926), 4.
Student Government Administrative Papers, UA 21.502 Box 1, Folder 1 (Student Council Records, 1926)
"Student Council Will Foster Exam Honesty" Technician Vol. 7, No. 13 (December 11 1926), 1.
"Presler Called Home Account Sick Mother" Technician Vol. 7, No. 14 (December 18 1926), 1.