John Coggin
Sanford, NC, native John Coggin came to NC State as a Park Scholar. While there, he created his own Interdisciplinary Studies degree that focused on science and religion. He also went on several study abroad trips to locales such as India, England, and the Galapagos Islands. Coggin graduated from NC State in 2009.
Images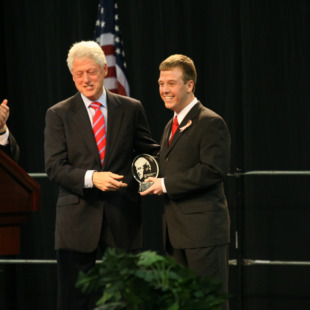 Accomplishments
On campus, Coggin was involved with Phi Beta Kappa, Phi Kappa Phi, University Scholars, Service Raleigh, NC State's Presbyterian Campus Ministry, and was an anchor on Wolf TV News. In 2008, Coggin unsuccessfully ran for student body president. His campaign platform focused on promoting diversity, making study abroad affordable for every student, and allowing public service to count as course credit. In 2009, Coggin won the inaugural President William Jefferson Clinton Hunger Leadership Award for his work with the non-profit organization Stop Hunger Now.
Currently
Coggin received a master's degree in Religion, Ethics, and Politics from Harvard Divinity School. He also co-authored one of the first studies of the contemporary Tea Party Movement entitled, "The Tea Party and the Remaking of Republican Conservatism." Coggin is now an Emerging Leaders Fellow at the NCSU Institute for Emerging Issues on Centennial Campus.
Citations
Technician (17 September 2007, 12 March 2008, 25 March 2008)
"Thank God for Darwin," NC State Community of Scholars, April 2009.
"Tea Party Research by John Coggin '09 and Fellow Harvard Scholars Adds to National Debate on Govenrment Spending as Debt Ceiling Deadline Looms," Park News, 7/22/11.