Jenny Chang
Jenny Chang had many honors associated with her name. In addition to her service as student body president, Chang was a Park Scholar, a Caldwell Fellow, a resident advisor for Berry Residence Hall, a Leader of the Pack finalist, and a recipient of the 1999 Truman Scholarship. While campaigning for the presidency, Chang called for no new fee increases, no plus/minus grading, and improved campus safety. She won the presidential election by approximately 200 votes; however, the Elections Board disqualified Chang from the election following her third warning from the Board. The Board overturned its decision to give Chang her third warning for unsolicited phone calls and reinstated her as president-elect. According to reports, Chang only called her friends stating, "In good faith, I thought they were interested in helping."
As president, Chang initiated several programs including the Virtual Advising program, an online advising site for undergraduates, and the Renewed Commitment Program, which provided one-on-one assistance for students struggling with academics. While reflecting over her presidential term in April 1999, Chang said she learned the difference between advocating ideas and turning those ideas into reality. Although she could not prevent the adoption of the plus/minus grading system, she successfully established 4.33 as the equivalency of an A+. In 1999, students elected Jenny Chang their senior class president.
Chang graduated in 2000 with dual degrees in biochemistry and economics. Following graduation, she worked on Capitol Hill with U.S. Representatives David Price and Carolyn Maloney. In April 2006, Jenny Chang died of breast cancer at the age of 28. Prior to her death, she spoke frequently about her diagnosis and encouraged young women to have checkups to ensure breast health. In memory of Chang's service to the university, NC State established the Jenny Chang Public Policy Endowment fund to support Park Scholars pursuing work or internships in public policy in Washington, D.C. Additionally, Student Government renamed the Outstanding Student Service Award in her honor.
Images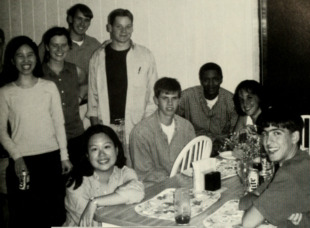 Years at State
Student Body President, 1998-1999
Senior Class President, 2000
Accomplishments
Chang served as the only student representative on the Provost Search Committee. Chang encouraged students to participate in an open forum to discuss qualities they desired from their future provost.
Jenny Chang and UNC's student body president launched a campaign to raise money and volunteers for the 1999 Special Olympics World Games. Together NC State and UNC raised over $16,000 for the Special Olympics.
In January 1999, Chang developed New Year's resolutions for State students, which included five goals. Chang's resolutions encouraged students to lose excess weight by unloading problems to Student Government and asked students to study better, not harder by visiting Student Government's Renewed Commitment Program. Additionally, Chang encouraged students to participate in community service, show more love for NC State, and to seek an academic mentor.
As president, Chang also fought fee increases. She aided in the reduction of student fees by over $22.
Activities
Caldwell Fellow
Chief of Operations, Student Government
Executive Assistant for Academic Affairs
Finalist, Leader of the Pack
Park Scholar
Resident Advisor
Student Senate
Citations
Technician (27 March 1998, 3 April 1998, 6 April 1998, 9 September 1998, 13 April 1999, 21 April 1999)
"Remembering Jenny Chang." Accessed 27 September 2010.
"Park News: Alumna Gives Breast Cancer Talk." North Carolina State University. Accessed 27 September 2010.
"Jenny Chang Memorial Resolution." North Carolina State University, Student Government. Accessed 27 September 2010.