Jennings Brooks Teal
Jennings Brooks Teal, an NC State College senior and Anson County native, served as the twenty-seventh president of the student body. A member of the Engineer's council and Eta Kappa Nu, Teal was active in several campus academic and social organizations. While campaigning for the presidency of Campus Government, Teal called for improvements to the "cut system" and more student involvement in Campus Government. While president, Teal opposed student ticket taxation and supported the addition of more "cut" days. Teal graduated from State College in 1948 with a degree in electrical engineering.
Images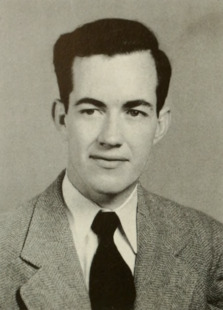 Years at State
Student Body President, 1947-1948
Accomplishments
Student Body President Jennings Teal met with the athletic council to discuss a 48 cent tax imposed on tickets to the State-Carolina football game. Following student opposition, administrators announced students would not have to pay the ticket tax.
Teal served as a member of the Student Coliseum Committee. The goals of the committee were to inform the student body on the progress of construction and to ensure the building's construction was completed quickly. Teal drafted a report of the committee to Campus Government which recommended the addition of more emergency exits to allow the coliseum to increase the occupancy limit.
Under Teal's leadership, Campus Government completed the installation of the sound system in the cafeteria in February 1948. Installation on the system began in summer 1947. Campus Government used the sound system to broadcast announcements and music throughout the dining hall.
Citations
Technician (25 April 1947)