Jay Everette
Jay Everette's desire to serve his peers through student government became evident as a young student. In the eighth grade, Everette campaigned for student council. He continued his involvement in student government activities throughout high school where he served four years as his class president. While serving as NC State's student body president, Everette worked to increase the number of minority members in the Student Senate and lobbied for the right of students to appeal academic suspension. During a student luncheon with President Reagan in 1985, Everette asked an overzealous reporter to respect students' limited time with the president and to withhold his questions. Believing his actions to be honorable, students commended Everette's articulate response to the reporter. In an interview with the Technician, Everette revealed his intention to one day write a book about his life experiences entitled "Noble Intentions." Everette graduated from NC State in 1986.
Images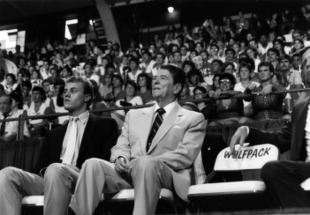 Years at State
Student Body President, 1985-1986
Accomplishments
In April 1985, Everette and local university leaders held a press conference outside of the NC Legislative Building. The leaders lobbied against Governor Martin's proposed tuition increase. Everette also lobbied on-campus leaders to allow students the opportunity to appeal academic suspension. Administrators eliminated the spring 1986 appeals process in an effort to comply with enrollment limitations. Everette claimed that students should not be punished for the University's mistake. Administrators reconsidered the policy and allowed students to appeal their suspension.
Students asked Everette to repeal basketball-ticketing guidelines enacted by the Student Senate. The new rules prohibited students from camping out weeks for tickets. Everette vetoed the Senate's ticketing policy, citing camper safety and the inequity of changing policies mid-season.
In response to the increase in the NC drinking age, Everette asked for student input in developing the new campus alcohol policy. He appointed an Alcohol Policy Task Force to relate student ideas to the administration.
Currently
Jay Everette is a Community Affairs Manager for Wells Fargo in Charlotte, NC.
Citations
Technician (6 September 1985, 4 December 1985, 6 December 1985, 24 January 1986)