James E. O. Hankins, II
Former Student Senator James Hankins began his work with Student Government as a freshman senator in 2004. As a sophomore, Hankins unsuccessfully campaigned for the position of Student Senate president against Zach Adams. Following the election Adams appointed Hankins as a Lifelong Education senator and Senate president pro tempore, positions Hankins accepted stating, "Senate is my passion. This is what I like to do."
Hankins campaigned for Student Senate president again in 2007. Recalling his first campaign Hankins declared, "I learned how it feels to lose something you really care about...." To the disappointment of Hankins supporters and friends, a new Policies, Regulations, and Rules resolution for student leaders disqualified Hankins from the election. Although Hankins could no longer run for Student Senate president, he served on Student Government's Legislative Counsel, a position he received at the request of Student Senate President Greg Doucette.
Hankins graduated in fall 2008 with a degree in political science; at the December 17 graduation ceremony, Hankins delivered the student commencement speech.
Images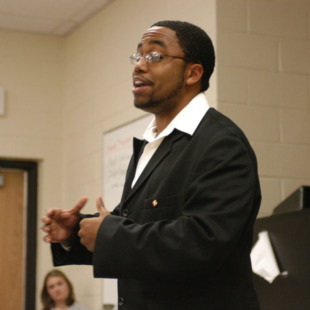 Years at State
Student Senate President Pro Tempore, 2006-2007
Accomplishments
As a Student Senator, Hankins voted against the Legislative Nullification Act, an act that declared, "…the university lacks authority to nullify…acts of legislation duly enacted by the Student Government." However, Hankins later rescinded his support of the act stating, "I don't want to give too much power to big brother..." While campaigning, Hankins critics recalled his wavering position, calling Hankins "'too soft' to stand up against University administrators…."
Hankins opposed administrators' decisions to overturn the Constitution Clarification Act, which guaranteed part-time students the right to vote. Hankins said Student Government needed to stand behind all students, declaring, "…to take the power out of any student's hands to better their university is both belittling and ridiculous."
As Senate president pro tempore, Hankins supported reforming the level of the burden of proof within the Office of Student Conduct. He thought raising the burden of proof could increase student awareness of the judicial process.
Currently
James Hankins currently teaches at Knightdale High School in Wake County.
Citations
Technician (17 March 2006, 19 March 2006, 22 March 2006, 3 April 2006, 6 April 2006, 5 February 2007, 13 February 2007, 21 March 2007, 26 November 2007, 9 January 2008, 16 January 2008, 6 February 2008, 20 November 2008)