James Bruce Crater
James Bruce Crater was the third Vice-President for the student government at North Carolina State University. He was praised for his ability to not only maintain a spirit of cooperation in the organizations he took part in, but for keeping a high academic standard while at the same time distinguishing himself in football, javelin, and track. The Technician also praised Crater for making "his actions consistent with his convictions", and noted that he left behind a strong legacy of excellent student government along with greatly helping the Student Body President, Percy Beatty.
Images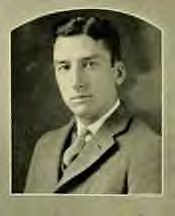 Years at State
Student Government Vice President, 1923-1924
Citations
"J. Bruce Crater" Technician Vol. 3, No. 30 (April 20 1923), 4.
Agromeck, 1924.
"Retiring Cabinet Leaves Record of Justice to All" Technician Vol. IV, No. 30 (April 11 1924), 6.
"Enthusiastic Meeting Poultry Science Club" Technician Vol. IV, No. 3 (September 28 1923), 4.
"All Together for Engineering Day!" Technician Vol. IV, No. 22 (February 15 1924), 1.
"State College Men Stage Snow Battle" Technician Vol. IV, No. 26 (March 14 1924), 7.