Irwin Holmes
Irwin Holmes, a Durham, North Carolina native, graduated third in his class from Hillside High School in 1956. A year earlier, the U.S. Supreme Court ruled in Frasier v. the Board of Trustees of the University of North Carolina that African Americans had a legal right to attend schools within the UNC system. Holmes exercised this right, and in 1956 was one of the first four African American students to enroll at NC State. Holmes, an electrical engineering major, became fully involved in campus activities. He lived in a campus residence hall and became the first African American student to play on a Wolfpack athletic team. Holmes became a member of the NC State tennis team in 1958; two years later, he served as the co-captain. Holmes graduated from NC State in May 1960, making him the first African American to receive an undergraduate degree from the university. Following graduation, Holmes attended Drexel University where he received a master's degree in electrical engineering.
Images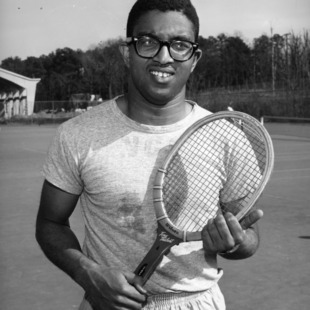 Currently
Irwin Holmes worked at IBM from 1969 to 1988. He is currently semi-retired and living in Durham, North Carolina. Holmes serves as the CFO at his wife's staffing agency, Monarch Services.
The Irwin Holmes and Black Alumni Society Conference Room on NC State's Centennial Campus is named in Holmes's honor.
Citations
ESPN: Black History Month, "Irwin Holmes completes the circle at NC State," (February 28, 2007), accessed 28 February 2012.
NCSU Libraries, "Red, White & Black," accessed 28 February 2012.
NCSU Black Alumni Society, "Irwin Holmes and Black Alumni Society Conference Room at the Dorothy and Roy Park Center," accessed 28 February 2012.