Hoyle Brannock Adams
Hoyle Adams, a Hendersonville native and an Air Force veteran, served as the managing editor of the Technician, the chairman of the Constitution Committee, and vice president of Lambda Chi Alpha prior to running for NC State's student body president. As the chairman of the Constitution Committee, Hoyle presented a copy of the proposed constitution to student representatives of the three Consolidated University schools during the organization of the Greater University Student Council. During the 1949 presidential election, Adams won more than 54 percent of student votes.
Images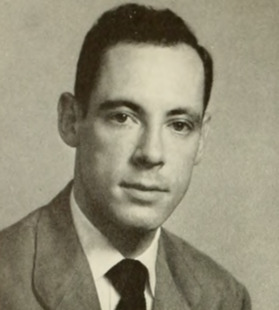 Years at State
Student Body President, 1949-1950
Accomplishments
Hoyle Adams was an adamant supporter of developing an "honorable honor system." NC State Student Council proposed changes to the Student Government constitution, which called for the elimination of proctors to promote individual students' "respect for his own honor" and to promote the welfare of the college community. Although Adams encouraged students to support honor code changes, the resolution did not pass in student body elections.
Citations
Technician (23 September 1949, 2 December 1949, 24 February 1950, 31 March 1950, 28 April 1950)