George Smedes York
As an NC State student, Smedes York served as the Lieutenant Colonel of the First Battalion R.O.T.C. He was active in many student organizations including, Phi Kappa Phi, Scabbard and Blade, and the Athletics Council. The Raleigh, North Carolina native also played four years on the Wolfpack basketball team under the direction of Coach Everett Case.
York graduated from NC State in 1963 with a degree in civil engineering. He then entered the US Army Corps of Engineers — later receiving an Army Commendation Medal for his service in South Korea. Following his two years of military service, York entered the University of North Carolina at Chapel Hill, where he earned a Master of Business Administration in 1968.
After he received his MBA from Chapel Hill, Smedes York joined his father's construction company, York Construction. The Yorks maintained ownership of York Construction until 1993 when the company merged with Coleman and Wood; the company is now known as McDonald York. In 1977, Smedes became president of York Properties—a title he held until 2009 when he appointed his son, George Smedes York II, to the position.
Smedes York served on the Raleigh City Council from 1977 to 1979, when he then ran a successful mayoral campaign. York served two terms as mayor of Raleigh, serving from 1979 to 1983. York has held positions in several Raleigh organizations, including the Chamber of Commerce and the Raleigh Durham Airport Authority. In 2007, York was inducted into the Raleigh Hall of Fame; two years later, he was inducted into the NC Business Hall of Fame.
In addition to his service to the Raleigh community, York has maintained his connection to NC State through his service on the Board of Trustees (1994-2001). He is also a former president of the NCSU Alumni Association and a member of the Watauga Club. In 2010, York chaired the search committee for NC State's new athletic director. York has received many awards including the 1977 Outstanding Young Alumni Award, the 1989 Distinguished Engineering Alumnus Award, and the College Alumus of the Year award in 1989.
Images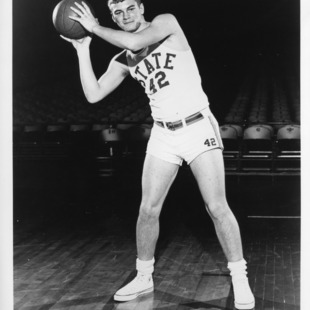 Citations
1963 Agromeck
NCSU Annual Giving, "Smedes and Rosemary York: 2011-12 Chancellor's Circle Co-Chairs," accessed 24 February, 2012.
McDonald York, "G. Smedes York: Chairman of the Board," accessed 24 February 2012.
Urban Land Institute, "Leadership Q&A with Smedes York," accessed 24 February 2012.
NCSU: College of Engineering, "Distinguished Engineering Alumnus Award Recipient: G. Smedes York—1989," accessed 24 February 2012.
"Smedes York passes torch to son George at York Properties," Triangle Business Journal, 7 September 2009, accessed 24 February 2012.