George Reece Sedberry
George Reece Sedberry enrolled at North Carolina State University in 1939. He became a leading figure on campus, and by his senior year was Student Council Vice President, as well as Best Senior R.O.T.C. Cadet. In the fall of 1941, he represented the Student Council at the National Students Federation of America. In May 1942, he received a Citizenship Trophy.
Images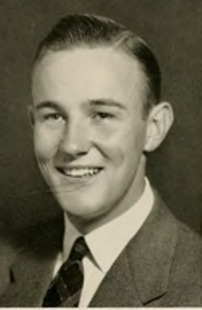 Years at State
Student Government Vice President, 1941-1942
Accomplishments
During Sedberry's term, eighteen hundred students signed a Student Council petition requesting the Faculty Council extend winter break beyond January 1, 1942. According to the Technician, the December 30th registration date would prohibit students from participating in New Year's celebrations. Student Council President William D. Robbins presented the petition to the Faculty Council on behalf of the student body. The Faculty Council approved the students' requests and changed winter registration from December 30-31 to January 2-3.