Gary Vance Mauney
According to Gary Mauney, Student Government should "act as a service organization for the students." Mauney served student interests on and off campus. As president, he met with state and federal leaders to discuss problems faced by North Carolina students including handicap barriers on UNC campuses, financial aid cuts, and tuition increases. On campus, Mauney led a rally opposing NC State's financial involvement in South Africa. He spoke out against apartheid saying, "Apartheid is against everything the University is for." In an interview with the Technician, Mauney stated he was most proud of his effectiveness in making Student Government a more visible organization. However, not all of the attention he brought to Student Government was positive. In March 1987, Student Government's chief of staff accused Mauney and Student Body Treasurer Bryan Kay of using unauthorized funds to support the U.S. Student Association trip to Washington, DC. The Judicial Board reviewed the case and declared Mauney and Kay rightfully allocated the funds and followed Student Government's Constitution. In addition to his service as student body president, Mauney served as Student Senate president and treasurer. Gary Mauney graduated from NC State in 1988 with dual degrees in economics and business management. In 1995, he received his J.D. from American University's Washington College of Law.
Images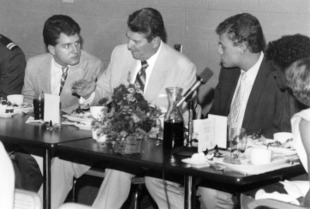 Years at State
Student Body President, 1986-1987
Accomplishments
At Mauney's request, in 1986 Governor Martin declared September 21-27 Student Voter Registration Week. During this week, Student Government worked to raise awareness of eligibility for registration, registered eligible students, and trained students to register others.
Mauney led student leaders in a protest against the NC Legislature's lack of support for handicap barrier removal. He denounced the General Assembly's appropriations bill that did not provide funding to remove architectural barriers on UNC campuses. In response to student protests, the Legislature promised to make appropriations for handicap barrier removal in the future.
Student Government sponsored a rally at the Student Center in protest of President Reagan's proposed financial aid cuts. Mauney supported the rally and stated, "This goes against what President Reagan called for in his State of the Union address." Mauney thought the financial aid cuts would discourage students from working in less technical fields including humanities.
Currently
Gary Mauney is currently a partner at Lewis & Roberts, PLLC law firm in Charlotte, North Carolina. Mauney practices many areas of law including investment fraud, professional malpractice, and wrongful death. He has published articles in the Journal of Taxation and Regulation of Financial Institutions and The Litigator.
Citations
Technician (9 June 1986, 16 January, 21 January 1987, 23 April 1987, 24 April 1987, 23 March 1987, 25 March 1987)
"Firm & Attorneys: Gary V. Mauney." 2007. Accessed 30 July 2010.
"Gary V. Mauney." 2010. Accessed 30 July 2010.