Ernest George Moore
Ernest George Moore was the fifth Student Body Vice President at North Carolina State University. He was well known on campus for his tireless efforts to improve the Technician, and the Agromeck yearbook credited him with making it a "real college newspaper." He would have graduated with the class of 1925, but he took a year off from his studies to teach, coming back to join the class of 1926.
Moore gave an inspiring editorial to the incoming freshman class of 1925, saying that "You are here not to prepare for some great event that is to take place in the dim future, but to live, and develop those talents and abilities which you posses – right now."
Images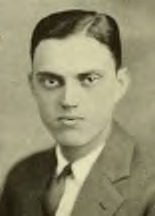 Years at State
Student Body Vice President, 1925-1926
Technician Editor-in-Chief, 1925-1926
Citations
"Frosh Intercept Many Snowballs" The Technician Vol. 6, No. 17 (January 16 1926), 1.
"Cafeteria Opens on Campus Oct. First" Technician Vol. 6, No. 1 (September 11 1925), 1, 6.
"A Message To The New Men From The Editor" Technician Vol. 6, No. 1 (September 11 1925), 2.
"State Has Co-Ed Student in Ceramics Department" Technician Vol. 6, No. 2 (September 18 1925), 5.
"Sophomores Promise to Abolish Hazing" Technician Vol. 6, No. 3 (September 25 1925), 7.