Ernest Earl Durham
Prior to his term as Student Council president, Ernest Durham was active in many campus organizations including Golden Chain and Kappa Phi Kappa. During Durham's senior year, students and faculty recognized his leadership abilities with several honors including election to the vice presidency of the North Carolina Federation of Students and selection for inclusion in "Who's Who Among Students in American Universities and Colleges." Additionally, during superlative voting, Durham was elected "best politician" of the 1940 senior class. While serving as president, Durham encouraged students to display honorable behavior by resisting stealing and cheating. Durham also worked alongside Wake Forest's student body president to eliminate vandalism of Wake's campus prior to the State-Wake football game. Under Durham's leadership, State's Student Council implemented a "stay at home" program to encourage students to stay on campus the night before the Wake game.
Ernest Durham graduated from NC State with a degree in agricultural education in 1940.
Images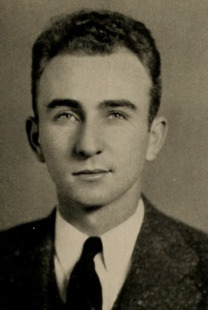 Years at State
Student Body President, 1939-1940
Accomplishments
Ernest Durham met with Student Council representatives during summer 1939 to discuss plans for the upcoming year. During their meetings, Student Council created a new form of residential government called the Dormitory Council. The purpose of the Council was to give the residence halls greater disciplinary control and improve residence life.
Dean Harrelson encouraged Student Council to reorganize and structure itself like the NC General Assembly. The new Student Assembly consisted of a Senate, composed of Student Council and the Student Welfare Committee, and a House of Representatives, made up of dormitory and fraternity representatives. Ernest Durham was elected president of the Assembly at its first meeting.
During his presidential tenure, Durham also organized Student Council's first "student book exchange." Students could sell their used books at the exchange instead of purchasing new books at the Supply Store. The book exchange was "successful" and continued for many years.
Currently
Ernest Durham served as the Assistant Business Manager of NCSU and Director of Operations at the University's Auxiliary Services including the print shop, laundry, food service, central stores, non-academic personnel, telephone operations and traffic, as position which he held until his death in 1975.
Citations
Technician (15 September 1939, 6 October 1939, 13 October 1939, 23 February 1940)
1940 Agromeck