Eric N. Moore
Eric N. Moore, a Durham, North Carolina native, served as the North Carolina State University Student Senate's first African-American president and first official Student Senate President. He campaigned on a platform of giving power to NC State's student body, passionately writing that, "Student Power can be yours for the asking. Do you want it?" Throughout his tenure as Student Senate President, Moore advocated for a more involved student body. During Moore's term, NC State offered their first Black Studies courses in the fall of 1969. Classes included one literature course, one history course, and two political science courses.
During his career at NC State, Moore faced and fought against racial discrimination. To combat campus intolerance, he proposed a series of suggestions over his term, including a requirement that every student on campus take two African-American courses. However, by the end of his time as Senate President, Moore expressed frustration at the prejudice that NC State's African-American students faced.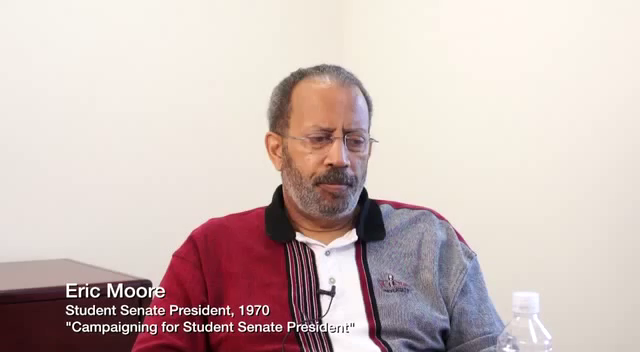 Images
Years at State
Student Senate President, 1969-1970
Accomplishments
Moore supported NC State's participation in the nationwide Moratorium to End the War in Vietnam in October 1969. Chancellor John T. Caldwell was the keynote speaker. The observance included the reading of the names of 39,000 American casualties over a 24-hour period.
Moore lobbied to move the Student Judicial Board from the Student Activities Office to the Judicial Affairs Office. Additionally, he championed for a more diverse Student Judicial Board.
Moore supported a bill allowing students to choose to which address their grades should be sent, as well as a proposal requiring preregistration course booklets to include the instructor's name alongside the course sections. He also developed an internship program for newly elected student leaders.
Currently
Eric Moore is the co-founder and Chief Development Officer at Rashmoor Media, LLC. Additionally, he is a managing partner for the Onnidan Group. He was an Instructor in Communications at Fayetteville State University for twenty-one years.
Citations
Technician (14 April 1969)