Clyde Roark Hoey, Jr.
Clyde Roark Hoey, Jr., served as the fourth student body president at NC State and, by all accounts, presided over a highly successful Student Government. He was known for his height, being six-foot-three-inches, and was generally regarded as being destined for greater things. He was heavily involved with the freshman class and mediated many disputes regarding the freshman caps. When he left office, his final speech urged freshmen to understand their duties and obligations to the college. Hoey began working at Pennsylvania State University as an assistant professor immediately upon his graduation in 1925.
Images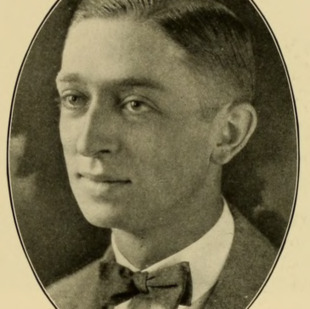 Years at State
Student Body President, 1924-1925
Accomplishments
In March 1925, in a effort to curb harassment of women from Meredith, Peace, and St. Mary's colleges, the North Carolina State Legislature made it a misdemeanor to "annoy" college girls. Many male students greeted the act unfavorably, as evidenced by their attempt to repeal the bill four days later. Their attempt failed and the bill passed into law.
Citations
Agromeck (Raleigh: North Carolina State University, 1925)
"Clyde R. Hoey Elected to Head Student Body" Techniciani Vol. IV, No. 30 (April 11 1924), 1.
"Spanish Athletes on State's Campus" Technician Vol. IV. No 36 (May 23 1924), 3.
"Music Department Established at State" Technician Vol. V, No. 1 (September 19 1924), 1.
"Going to School by Radio" Technician Vol. V, No. 15 (January 9 1925), 1.
"Anti-flirting Bill Enacted Into Law" Technician Vol. V, No. 24 (March 13 1925), 1.
"Student Government Officers Are Installed" Technician Vol. V, No. 28 (April 10 1925), 1.31)