Clyda Weeks Lutz
Clyda Weeks Lutz is a native of Garner, North Carolina. In 1959 she transferred to North Carolina State College from the University of Arizona, and in 1962 she graduated with a BS in recreation and park administration.
She became active with the College Union, serving on the Board of Directors and chairing the Activities Committee. In 1960 she became College Union president, the first woman elected to that position and to a campus-wide position. The College Union president oversaw outreach efforts for creating various social opportunities on campus. Also, because she was president, she served as student representative on the board of directors for the Friends of the College. The Friends of the College organized cultural activities, and during her term of service the Friends brought Leonard Bernstein and the New York Philharmonic Orchestra to Raleigh. In addition to the College Union, Lutz also served on the Woman's Campus Code Board and the Student Council to the Consolidated University.
Images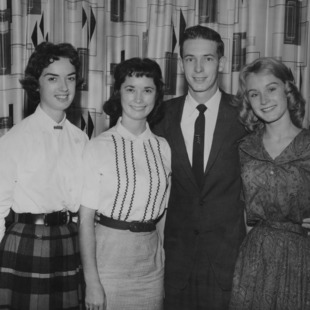 Years at State
College Union President, 1960-1961
1960-1961
Currently
After graduating from NC State, Lutz lived in Indiana for several years, before returning to North Carolina. She is currently an earth science teacher at West Carteret High School in Morehead City, NC.