Claude Lee Carrow, Jr.
Claude Lee Carrow served as the Student Body Vice President for the 1934-1935 academic year, during a period in which the student government and academic policies were rapidly changing.
Images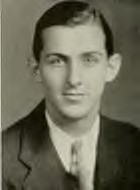 Years at State
Student Government Vice President, 1934-1935
Accomplishments
In the winter semester of 1934, the Student Council decided that any students who were brought before the council on charges and found guilty would have his or her name placed in Technician along with a record of their offense. Before this ruling, the names and offenses were confidential.
After the honor system was abolished in late 1934, the student council voted to change how trials were conducted when students were brought up on charges before the student council. Previously any junior, sophomore, or senior could sit in judgment on the council, but the rule was changed so that only seniors, who were considered to be "more capable of handling cases", were allowed to serve in trials.
Citations
Agromeck (1934)
"New Ruling" Technician Vol. XV, No. 1 (September 25 1934), 1.
"Student Government Says Future Cases To Be Tried By Five Senior Councilmen" Technician Vol. XV, No. 12 (January 11 1935), 1.
"Ball and Chain" Technician Vol. XIV, No. 24 (April 27 1934), 1.
"Firemen Become Disgusted As Only Small Fire Found" Technician Vol. XV, No. 10 (November 29 1934), 1.