Charles Edward Brake
Charles Edward Brake was the Student Body Vice President for the 1931-1932 school year at North Carolina State University, having been given the position after losing to Romeo LeFort in the presidential race. He was voted "Best Politician" in the 1932 Agromeck, and was in fact a member of the staff which produced the yearbook. As president of Delta Sigma Phi, the national commerce fraternity, he represented NC State at the Southeastern fraternity convention.
Images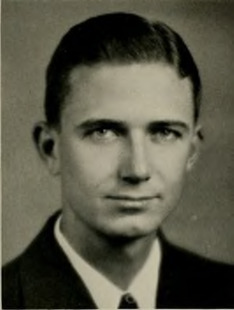 Years at State
Student Government Vice President, 1931-1932
Accomplishments
In early 1932 the Student Council of NC State voted to request that the City of Raleigh install a stop light at the entrance to the college, citing three deaths which had occurred there due to traffic accidents. The Student Council also requested that policemen be present at the entrance during football games to help regulate traffic.
Citations
Agromeck (1932).
"To Atlanta" Technician Vol. 12, No. 4 (October 9 1931), 2.
"Edison Honored at Campus Meet" Technician Vol. 12 No. 6 (October 23 1931), 1, 3.
"Noted Aviatrix Speaks Tonight About Aviation" Technician Vol. 12, No. 8 (November 6 1931), 1.
"Aviatrix Talks to Engineermen" Technician Vol. 12, No. 9 (November 13 1931), 1, 3.
"Student Body Requests Stop-Light For College" Technician Vol. 12, No. 14 (January 15 1932), 1.