Chandler Thompson
Chandler Thompson was elected to be the student body president of North Carolina State University in the spring of 2011. She was the ninety-third student body president and the seventh woman to hold this prestigious position. Prior to her election, Thompson had been involved with the Student Government Executive Branch Traditions Commission, for which she served as secretary (2009-2010) and chair (2010-2011).
In her campaign for student body president, Thompson promised "longer tailgate hours, a 4th meal on campus, a central calendar, improved advising, and a sustainability culture change." Thompson indicated that she wished to leave a legacy that rendered NC State as a place where students could not only acquire a quality education but also enjoy extracurricular life while doing so.
While at NC State, Chandler Thompson was part of the first class initiated into the new chapter of Kappa Delta. She graduated in 2012 with a Bachelor of Science in Economics.
Images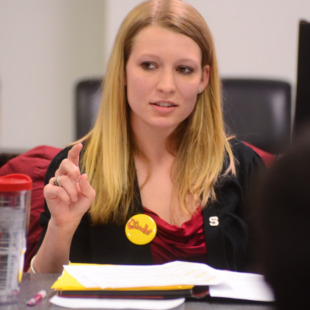 Years at State
Student Body President, 2011-2012
2011-2012
Accomplishments
Chandler Thompson's term heralded the advent of an extension of Atrium dining hall hours, a cleanup of the executive branch, creation of a Google calendar for campus events, enhancement of the Wolfpack Student Discount program, and addition of more student study places around campus. One of Thompson's goals as student body president was transparency. In this spirit, she issued a document at the completion of her term titled "Student Body President Platform Review," outlining, from her vantage point, how her campaign goals had been fulfilled.
Citations
Technician March 28, 2011; April 2, 2012
"Chandler Thompson" Student Government profile, accessed 09 April 2013. URL: http://students.ncsu.edu/sgims/archive-90/p/chandler-thompson-cethomp2.html