Brooks T. Raiford
Brooks T. Raiford served two consecutive terms as Student Senate president (1988-1989, 1989-1990), a rarity in Student Government history. When reflecting on the duties of the Student Senate president and the qualities the president must encompass, President Raiford declared, "the Senate President must be willing to take the flack for Senate actions and must be comfortable and fully informed about each decision made on the floor." He continued, stating the Student Senate president must be willing to spend as much as forty hours a week on the job and must expect many meetings and phone calls. During his first term, Raiford maintained his course workload and his job as Senate president while working as an intern at the North Carolina Legislature. Following the completion of his first term in 1989, senators declared that Raiford promoted the welfare of students "with consistent results which have benefited his constituents." Raiford ran unopposed for a second term in spring 1989. During Raiford's second term, he served on the Chancellor Search Committee. In an interview with the Technician, Raiford claimed that while serving as Senate president, he "made the Senate immeasurably more efficient and productive." On March 28, 1990, Brooks Raiford assumed the position of student body president, following Student Body President Brian Nixon's resignation. Raiford served as student body president for approximately one month. While president, Raiford met with the Board of Trustees to discuss the selection of a new chancellor. Chancellor Poulton had resigned in August 1989 in hopes of protecting NC State from further bad publicity stemming from allegation of improprieties in the men's basketball program. He stated, "I feel that part of the problem is the personal attack that's been directed at me, and I frankly feel like by taking myself out of the situation, I might lessen the attack on the university."
Brooks Raiford graduated from NC State in 1997 with a degree in political science.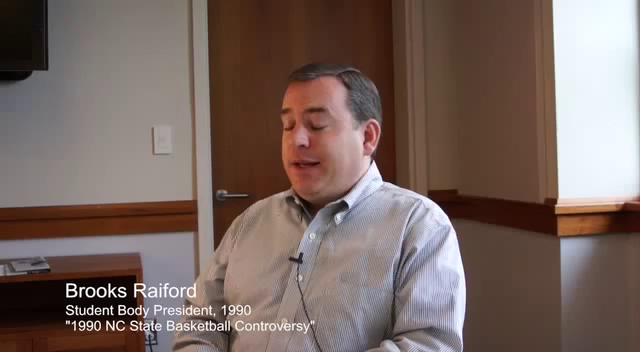 Years at State
Student Senate President, 1988-1989
Student Senate President, 1989-1990
Student Body President, 1990
Accomplishments
In September 1988, Student Senate President Brooks Raiford called for an emergency meeting to create a bill to clarify the process of determining the results of Student Government elections.
Throughout his term, Raiford lobbied university administrators and North Carolina legislators for appropriations to finance handicap-accessible tunnels on campus.
In February 1989 the Student Senate passed a bill to allocate $400 to the new Lesbian and Gay Student Union. During the voting process, Raiford reminded Senators it was illegal and unethical to discriminate against a student group based on their sexual preference. Many students wrote to the Technician condemning the Senate for supporting the group. In a March 20 Technician editorial, Raiford fired back at critics stating, "Let me state emphatically that as president of the Senate, I would refuse to allow the Senate to violate a state law even if 100 percent of the student body favored breaking that law."
In January 1990, Student Senate President Brooks Raiford encouraged Chancellor Monteith to "dismiss" head basketball coach Jim Valvano. In his address to the Senate, Raiford declared, "the question of Coach Valvano's personal ethics and philosophy is most troubling to me." Although Raiford called for the university to fire Valvano, Student Body President Brian Nixon did not.
Raiford raised awareness about the continued search for a new chancellor. Raiford told Student Senators he would ask candidates about their views on the roles of academics and athletics within universities as well as their views on the role of coaches. Raiford declared, "Candidates need to be aware that this is a serious concern on our campus."
Raiford unsuccessfully lobbied administrators to reopen the Hillsborough Street entrance to the D.H. Hill Library following its closure due to budget cuts.
During the 1989-1990 Senate session, Brooks Raiford authored three Senate bills, which included amendments to the Student Government election process.
Currently
Brooks Raiford currently serves as the president and CEO of the North Carolina Technology Association. Raiford also serves as the vice chairman of the Board of Directors of the Wake Education Partnership and is a member of NC State's College of Humanities and Social Sciences' Board of Advisors.
Raiford's previous work experience includes service as a policy aide in the N.C. Governor's Office, the director of the Independent College Fund of North Carolina, the president of Leadership North Carolina and the director of Business Development for Balfour Beatty Construction. Raiford lives in Apex, NC with his wife, Stephanie, and their two children.
Citations
Technician (22 April 1988, 9 September 1988, 10 October 1988, 30 November 1988, 5 December 1988, 20 January 1989, 25 January 1989, 3 February 1989, 20 March 1989, 27 March 1989, 30 March 1990)
"Brooks Raiford Biography." North Carolina Technology Association. Accessed 11 August 2010.
Student Government Administrative Papers, University Archives, North Carolina State University Libraries, Raleigh, North Carolina. Senate Minutes (27 March 1989, 5 April 1989, 14 March 1990)