Benjamin Thomas Ward
Greensboro, NC, native Benjamin "Tommy" Ward served the Campus Government as early as his freshman year. In addition to Campus Government, Ward served on the Agromeck staff, the Social Functions Advisory Committee, Intramural Advisory Board, Interfraternity Council, was a member of the Thirty and Three, and was circulation manager of the Technician at the time of his campaign. In addition, he was involved with all-campus football, basketball, softball, volleyball, boxing, track and field, and won the Outstanding Fraternity Intramural Athletic Trophy.
During his bid for the vice presidency, Ward campaigned on a platform that included "unlimited cuts for Juniors and Seniors with a 'C' average" and continuing the "present policy of trying to get special student rates for Coliseum events."
Images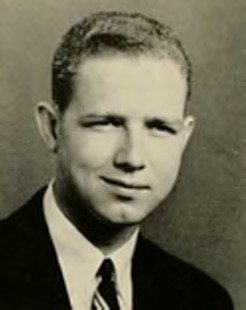 Years at State
Student Government Vice President, 1952-1953
Accomplishments
Ward created and headed the "Operation Spirit" committee. "Operation Spirit" was designed to increase enthusiasm and spirit at campus sporting events. The initiative was well-received by the NC State student body.
During Ward's tenure, the Campus Government purchased 248 books for the library. The $700 used to purchase the books came from a portion of the $40,000 given to Campus Government as part of the settlement from the Student Supply Stores in the spring of 1952.
Citations
Technician (25 April 1952)