Alexander Biggs Holden
Alexander Biggs Holden was Vice President of the Student Government at North Carolina State University for the 1928-1929 school year. He was involved in the furor on campus over the seeming lack of discipline among students, which erupted into controversy when the Golden Chain Society formally recommended dissolving the student government in favor of a different system. Holden was on the committee which was then formed, and argued that the student government on campus was in fact very effective, and that the Golden Chain had misrepresented the facts. The Agromeck yearbook noted that he was "a man of sterling character", which may have allowed him to moderate the student government discussions despite being so closely related to the issue.
Images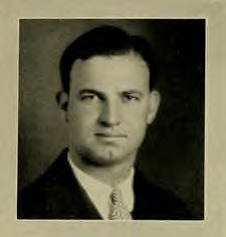 Years at State
Student Government Vice President, 1928-1929
Accomplishments
Holden ran several meetings in the fall of 1928 regarding the status of student government as a whole. While he rarely volunteered an opinion, probably because he was a member of the government, he frequently held debates and moderated opinions, attempting to find a lasting solution.
Citations
Agromeck (1929), 37.
"Will Continue Student Government At N.C. State" Technician Vol. 9, No. 7 (November 3 1928), 1-2.
"Students Undecided On System of Local Self-Government" Technician Vol. 9, No. 8 (November 10 1928), 1-2.
"Electrical Students' Set Shocked when High Voltage Main Grounds" Technician Vol. 9, No. 6 (October 27 1928), 1.
"Co-Eds Have Not Yet Taken Cigar Stores Away From The Men" Technician Vol. 9, No. 6 (October 27 1928), 1.